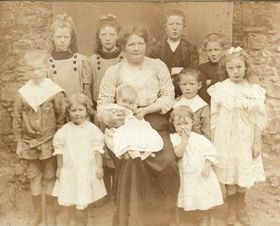 This is a reminder for you to not be discouraged or delay your Irish ancestry genealogy research. Some years, like the mid 1700's are harder than others.
Note this from a post on a terrific website: Irish Genealogy Toolkit. They state it well as follows:
"Irish genealogy gained a reputation long ago for being a frustrating one-way street to disappointment and headache. Thankfully, calming potions and analgesics are no longer essential equipment for the amateur genealogist because family history in Ireland has entered a golden era. More and more records – many of them free – are now available online and
offline."
I too have found that too many overstate the difficulty of Irish genealogy research or encourage you to part with large sums of money unnecessarily.
Be careful about the sites or folks that ask for money. I discovered today a case where a person with access to the LDS church websites was re-selling at a price what the church provides for free. Not nice that naughty person.
Here is the link, click here to Irish Geneaolgy Toolkit.
Also, I want to point out there are many other websites offering valuable help. I have listed them under the Category of "Irish Research", currently there are 21 of them. It would be great to receive your feedback if you use any of them.
Remember, this is a detective game. A fun one. Be thorough, be patient, and use a research log in all you do.
The links below are a few published by them in another post.
No matter where in the world you now call home – whether it be the Canadian Rockies, the Australian Outback, one of the world's great "emerald" cities such as Liverpool (UK) or Boston (USA), or the beautiful craggy coast of Donegal – you'll find page after page of relevant advice on this website plus the very latest information on genealogical resources in Ireland.
Here's just some of what you can expect to discover here on Irish Genealogy Toolkit: